Appliance Removal & Hauling
Appliance Removal & Hauling Service near Omaha NE Council Bluffs IA
Amazon Junk Removal & Hauling Omaha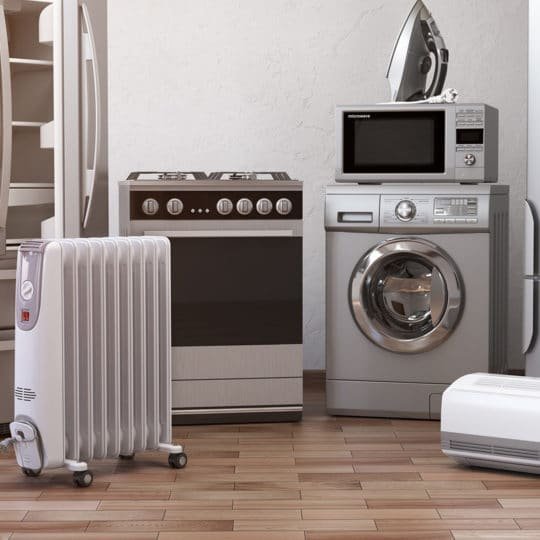 One of the biggest hassles any homeowner can face is the removal and replacement of an old appliance. First, you have to move the appliance out from the wall and make enough room to squeeze behind. Next, you have to make sure every cord and pipe is disconnected, and then figure out how to get it out of your house. That might include risking life and limb to somehow get that big heavy appliance down a few flights of stairs and into the back of a truck.
At this point, most people are so fed up with the process that they don't care where the appliance ends up, as long as it is out of sight. This is likely the driving factor behind a lot of the illegally ditched appliances we all tend to see along the city streets. You might be thinking, "Well, dumping an appliance is bad, but not as bad as dumping chemicals or other more harmful things". Unfortunately, this could not be further from the truth.
Refrigerator Removal Hazards
Let's take refrigerators, for example. You will find a plethora of harmful and toxic substances in an old refrigerator, including mercury, Freon and other refrigerants, contaminated oil, and synthetic foam insulation. When dumped at the landfill, these chemicals leak and contaminate both the ground and the air. This is why proper appliance recycling is critical to the overall health of the environment.
Here at Amazon Junk Removal & Hauling Omaha we want to make sure that every old appliance we pickup are disposed of as responsibly as possible. We take care of everything: we will come to your home, remove your old appliance, and drop it off at a reputable recycler who will dismantle the appliance in an environmentally friendly manner.
If you would like to inquire about getting an old appliance removed and responsibly hauled away and disposed of, call or schedule an appointment online today for a free estimate.
Arlington NE Appliance Removal & Hauling Services near me
Ashland NE Appliance Removal & Hauling Services near me
Avoca IA Appliance Removal & Hauling Services near me
Bellevue NE Appliance Removal & Hauling Services near me
Bennington NE Appliance Removal & Hauling Services near me
Blair NE Appliance Removal & Hauling Services near me
Boys Town NE Appliance Removal & Hauling Services near me
Carson IA Appliance Removal & Hauling Services near me
Carter Lake IA Appliance Removal & Hauling Services near me
Ceresco NE Appliance Removal & Hauling Services near me
Council Bluffs IA Appliance Removal & Hauling Services near me
Dunlap IA Appliance Removal & Hauling Services near me
Eagle NE Appliance Removal & Hauling Services near me
Elkhorn NE Appliance Removal & Hauling Services near me
Fort Calhoun NE Appliance Removal & Hauling Services near me
Fremont NE Appliance Removal & Hauling Services near me
Glenwood IA Appliance Removal & Hauling Services near me
Greenwood NE Appliance Removal & Hauling Services near me
Gretna NE Appliance Removal & Hauling Services near me
LA Vista NE Appliance Removal & Hauling Services near me
Lincoln NE Appliance Removal & Hauling Services near me
Logan IA Appliance Removal & Hauling Services near me
Louisville NE Appliance Removal & Hauling Services near me
Malvern IA Appliance Removal & Hauling Services near me
Missouri Valley Ia Appliance Removal & Hauling Services near me
Murray NE Appliance Removal & Hauling Services near me
Oakland IA Appliance Removal & Hauling Services near me
Omaha NE Appliance Removal & Hauling Services near me
Pacific Junction IA Appliance Removal & Hauling Services near me
Papillion NE Appliance Removal & Hauling Services near me
Plattsmouth NE Appliance Removal & Hauling Services near me
Ralston NE Appliance Removal & Hauling Services near me
Springfield NE Appliance Removal & Hauling Services near me
Underwood IA Appliance Removal & Hauling Services near me
Wahoo NE Appliance Removal & Hauling Services near me
Waterloo NE Appliance Removal & Hauling Services near me
Weeping Water NE Appliance Removal & Hauling Services near me
Woodbine IA Appliance Removal & Hauling Services near me
Yutan NE Appliance Removal & Hauling Services near me
call us at (402) 575-9499 or