Couch Removal Services near Omaha NE Council Bluffs IA
Amazon Junk Removal & Hauling Omaha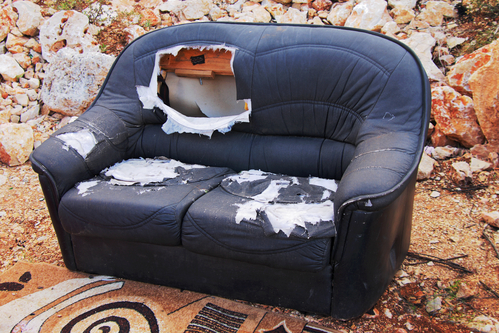 Expert Couch Removal Services from Amazon Junk Removal & Hauling Omaha
For the fastest guaranteed price estimate for your couch removal, please call us at  (402) 575-9499!
Getting rid of an old couch can become a surprisingly difficult task without the right resources.
In the city of Omaha NE Council Bluffs IA – as well as most surrounding suburbs – you can be fined by your garbage service or local jurisdiction for leaving an unwanted couch in an alley or curbside as they will typically not pick them up.
Couch removal on your own can be difficult if you do not have a vehicle, and down right dangerous without assistance to lift and remove the couch. If you live in an older building or home, you know how tricky it can be to navigate those older doorways and stairwells. Even if you are able to remove it yourself… where will you take it?
Make it easy on yourself and your friends: call us for couch removal. We'll even handle those sleeper beds that every mover groans about when they discover you own one. We make sure that the only effort you have to worry about is texting us the photos and getting a guaranteed price estimate. From there, we will do the heavy lifting.
On the day of your pick-up, we will text you during your arrival window and arrive fully prepared for any challenging situation with the proper tools and equipment. Don't think it will fit through a doorway or down a stairwell? We will handle it!
Our crew will quickly cut up or disassemble the couch – whatever is required to get the furniture out of your home. We'll even clean up after we are done like we were never there. We always try our best to keep furniture intact, but for some jobs, it's safer for the rest of your property to remove the old couch piece by piece.
Arlington NE Couch Removal Service near me
Ashland NE Couch Removal Service near me
Avoca IA Couch Removal Service near me
Avoca NE Couch Removal Service near me
Bellevue NE Couch Removal Service near me
Bennington NE Couch Removal Service near me
Blair NE Couch Removal Service near me
Boys Town NE Couch Removal Service near me
Carson IA Couch Removal Service near me
Carter Lake IA Couch Removal Service near me
Ceresco NE Couch Removal Service near me
Council Bluffs IA Couch Removal Service near me
Dunlap IA Couch Removal Service near me
Eagle NE Couch Removal Service near me
Elkhorn NE Couch Removal Service near me
Fort Calhoun NE Couch Removal Service near me
Fremont NE Couch Removal Service near me
Glenwood IA Couch Removal Service near me
Greenwood NE Couch Removal Service near me
Gretna NE Couch Removal Service near me
LA Vista NE Couch Removal Service near me
Lincoln NE Couch Removal Service near me
Logan IA Couch Removal Service near me
Louisville NE Couch Removal Service near me
Malvern IA Couch Removal Service near me
Mead NE Couch Removal Service near me
Missouri Valley Ia Couch Removal Service near me
Murray NE Couch Removal Service near me
Oakland IA Couch Removal Service near me
Omaha NE Couch Removal Service near me
Pacific Junction IA Couch Removal Service near me
Papillion NE Couch Removal Service near me
Plattsmouth NE Couch Removal Service near me
Ralston NE Couch Removal Service near me
Springfield NE Couch Removal Service near me
Underwood IA Couch Removal Service near me
Valley NE Couch Removal Service near me
Wahoo NE Couch Removal Service near me
Waterloo NE Couch Removal Service near me
Weeping Water NE Couch Removal Service near me
Woodbine IA Couch Removal Service near me
Yutan NE Couch Removal Service near me
call us at (402) 575-9499 or