Concrete Break-Up Removal Service
Concrete Break-Up Removal Service near Omaha NE Council Bluffs IA
Amazon Junk Removal & Hauling Omaha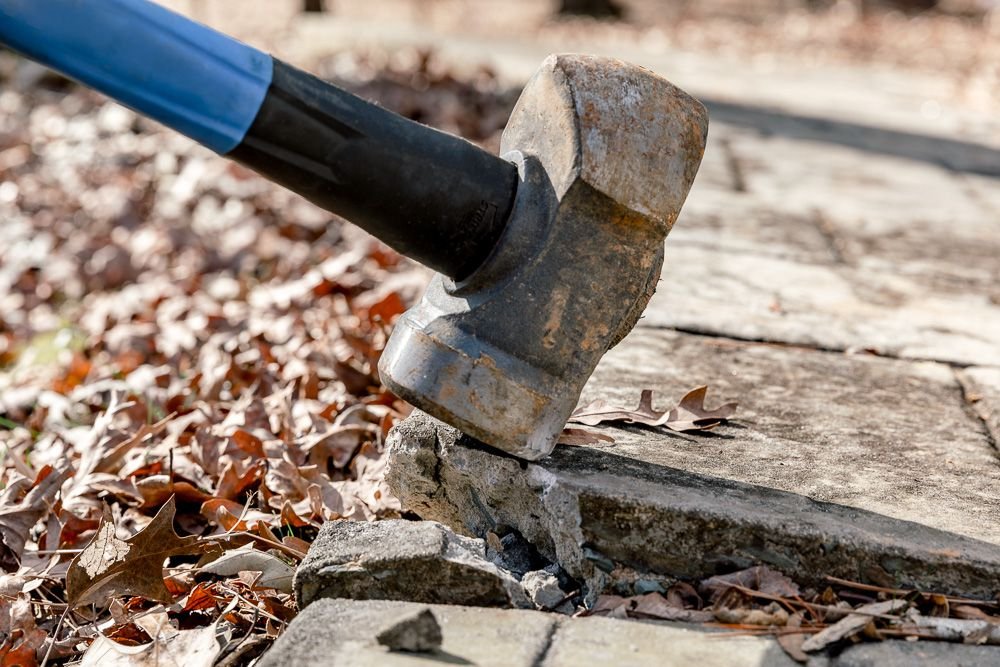 Nothing stops a construction project dead in its tracks like a ton of concrete. Whether it's a few ugly slabs in the driveway or an old foundation that needs to be completely removed, the process is the same: concrete needs to be broken up, and hauled away.
Sometimes even the most capable and most well equipped contractors will have to call in for reinforcements when faced with the task of breaking up a large amount of concrete. That's where we come in!
We have assisted in hundreds of contractors with worksite preparation, using the hydraulic breaker attachment on our Front loader and Backhoe to quickly and efficiently breakup large amounts of concrete. Once the concrete is destroyed we bring in enough manpower to get the debris cleared out and in our truck as fast as possible, ready to be hauled away to the concrete recycling center.
Manpower for Professional or DIY Concrete Breaking & Removal Projects
Not a contractor, but still need some concrete removed? We are equally capable of working on smaller projects as well. If the concrete you need removed is small enough or in an area that our Front loader cannot go, we can go in a break it up by hand.
Whatever the job entails, Amazon Junk Removal & Hauling Omaha can handle it!
Arlington NE Concrete Break-Up Removal Service near me
Ashland NE Concrete Break-Up Removal Service near me
Avoca IA Concrete Break-Up Removal Service near me
Bellevue NE Concrete Break-Up Removal Service near me
Bennington NE Concrete Break-Up Removal Service near me
Blair NE Concrete Break-Up Removal Service near me
Boys Town NE Concrete Break-Up Removal Service near me
Carson IA Concrete Break-Up Removal Service near me
Carter Lake IA Concrete Break-Up Removal Service near me
Ceresco NE Concrete Break-Up Removal Service near me
Council Bluffs IA Concrete Break-Up Removal Service near me
Dunlap IA Concrete Break-Up Removal Service near me
Eagle NE Concrete Break-Up Removal Service near me
Elkhorn NE Concrete Break-Up Removal Service near me
Fort Calhoun NE Concrete Break-Up Removal Service near me
Fremont NE Concrete Break-Up Removal Service near me
Glenwood IA Concrete Break-Up Removal Service near me
Greenwood NE Concrete Break-Up Removal Service near me
Gretna NE Concrete Break-Up Removal Service near me
LA Vista NE Concrete Break-Up Removal Service near me
Lincoln NE Concrete Break-Up Removal Service near me
Logan IA Concrete Break-Up Removal Service near me
Louisville NE Concrete Break-Up Removal Service near me
Malvern IA Concrete Break-Up Removal Service near me
Missouri Valley Ia Concrete Break-Up Removal Service near me
Murray NE Concrete Break-Up Removal Service near me
Oakland IA Concrete Break-Up Removal Service near me
Omaha NE Concrete Break-Up Removal Service near me
Pacific Junction IA Concrete Break-Up Removal Service near me
Papillion NE Concrete Break-Up Removal Service near me
Plattsmouth NE Concrete Break-Up Removal Service near me
Ralston NE Concrete Break-Up Removal Service near me
Springfield NE Concrete Break-Up Removal Service near me
Underwood IA Concrete Break-Up Removal Service near me
Wahoo NE Concrete Break-Up Removal Service near me
Waterloo NE Concrete Break-Up Removal Service near me
Weeping Water NE Concrete Break-Up Removal Service near me
Woodbine IA Concrete Break-Up Removal Service near me
Yutan NE Concrete Break-Up Removal Service near me
call us at (402) 575-9499 or