Fence Removal Service near Omaha NE Council Bluffs IA
Amazon Junk Removal & Hauling Omaha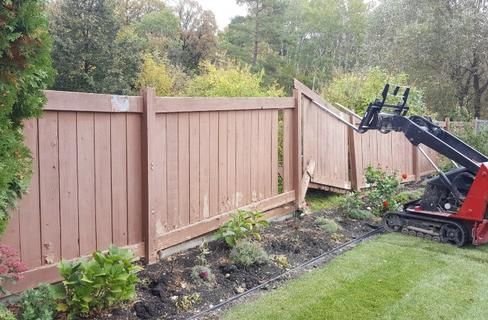 Has your fence seen better days and you'd like to update your backyard? Whether it's weather-damaged, rusted, rotted, or you're just ready for an upgrade, we're here to remove that old fence so you can get the new one in!
If you've ever tried digging up and moving a fence post, you probably learned the hard way – it's not easy! It doesn't matter if it's a regular chain link fence or a massive wooden privacy fence, our team of Removal Specialists can have your fence removal project done in no time.
All it takes is a quick phone call, and your fence will be practically a thing of the past! After speaking with your Amazon Junk Removal & Hauling Omaha about the details and size of your fence removal project, you will receive a guaranteed quote, and we will work with you to schedule the fence removal at your earliest convenience.
Once everything is scheduled, all that's left to do is sit back, relax, and let us take it from there!
On the day of your removal, our Removal Specialists will let you know when they are on the way, and will get right to work upon arrival. They will get your fence broken down and loaded into our truck in no time, leaving your yard a blank slate – ready for whatever project you have in store.
Only when the job is completed and approved will our team be able to take payment on their tablets by either cash, check, or credit card.
To book your fence removal project, please fill out the form below or text photos to (402) 575-9499
and a Amazon Junk Removal & Hauling Omaha will help you with the details. We look forward to hearing from you!
Arlington NE Fence Removal Service near me
Ashland NE Fence Removal Service near me
Avoca IA Fence Removal Service near me
Avoca NE Fence Removal Service near me
Bellevue NE Fence Removal Service near me
Bennington NE Fence Removal Service near me
Blair NE Fence Removal Service near me
Boys Town NE Fence Removal Service near me
Carson IA Fence Removal Service near me
Carter Lake IA Fence Removal Service near me
Ceresco NE Fence Removal Service near me
Council Bluffs IA Fence Removal Service near me
Dunlap IA Fence Removal Service near me
Eagle NE Fence Removal Service near me
Elkhorn NE Fence Removal Service near me
Fort Calhoun NE Fence Removal Service near me
Fremont NE Fence Removal Service near me
Glenwood IA Fence Removal Service near me
Greenwood NE Fence Removal Service near me
Gretna NE Fence Removal Service near me
LA Vista NE Fence Removal Service near me
Lincoln NE Fence Removal Service near me
Logan IA Fence Removal Service near me
Louisville NE Fence Removal Service near me
Malvern IA Fence Removal Service near me
Mead NE Fence Removal Service near me
Missouri Valley Ia Fence Removal Service near me
Murray NE Fence Removal Service near me
Oakland IA Fence Removal Service near me
Omaha NE Fence Removal Service near me
Pacific Junction IA Fence Removal Service near me
Papillion NE Fence Removal Service near me
Plattsmouth NE Fence Removal Service near me
Ralston NE Fence Removal Service near me
Springfield NE Fence Removal Service near me
Underwood IA Fence Removal Service near me
Valley NE Fence Removal Service near me
Wahoo NE Fence Removal Service near me
Waterloo NE Fence Removal Service near me
Weeping Water NE Fence Removal Service near me
Woodbine IA Fence Removal Service near me
Yutan NE Fence Removal Service near me
call us at (402) 575-9499 or