E-Waste Hauling Service near Omaha NE Council Bluffs IA
Amazon Junk Removal & Hauling Omaha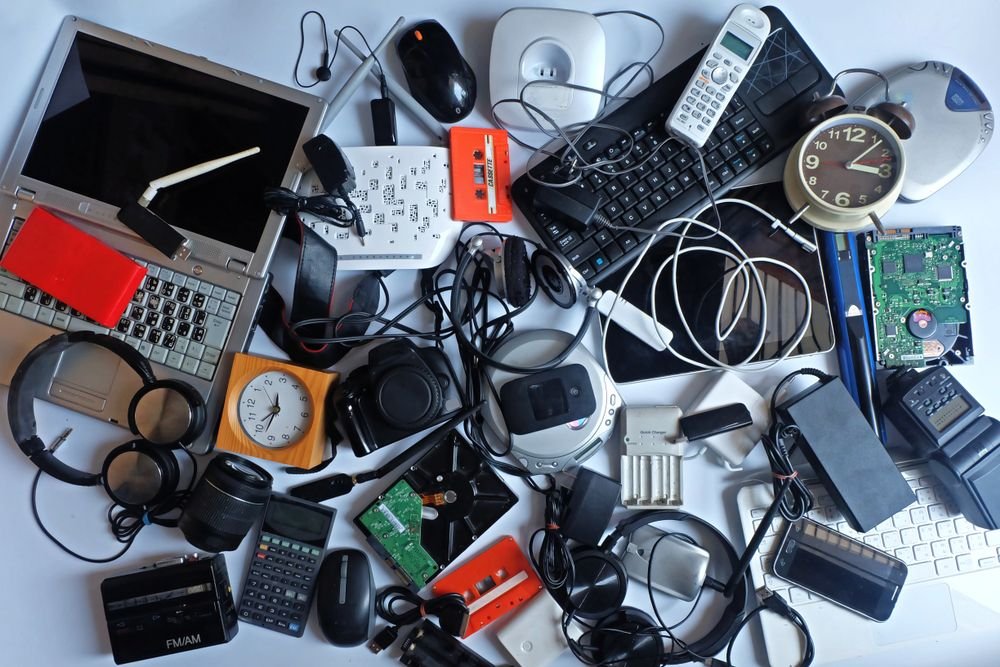 With the rapid advancement of technology, we find a large amount of our electronic devices quickly becoming obsolete. From televisions and computers to smartphones and MP3 players, most old and used electronics can be recycled and re-purposed that can help extend their life. Unfortunately, a large amount of electronic products still ends up being grouped in with normal garbage, creating e-waste.
The California Department of Toxic Substances Control (DTSC) does not consider e-waste as a "hazardous waste" since it is not immediately harmful to the environment or people that come into contact. However, the DTSC recognized that e-waste contains hazardous materials that can be extremely dangerous if not handled and disposed of appropriately.
One of the most harmful elements of e-waste hauling and disposal is something known as a Cathode Ray Tube (CRT), which is what older computer monitors and television used to display the picture that appeared on screen. Devices that utilize these CRT's have long since been made obsolete due to the emergence of LCD and LED technology, and have thus been discarded at a very rapid pace. Unfortunately, the average cathode ray tube contains anywhere between 2 and 10 pounds of lead, a commonly recognized toxic substance. Other common consumer electronic devices (CEDs) like cell phones, calculators, radios, and other electronics that can be found in the home or office, have been recognized by the DTSC to contain toxic or hazardous substances as well.
Arlington NE E-Waste Hauling Services near me
Ashland NE E-Waste Hauling Services near me
Avoca IA E-Waste Hauling Services near me
Avoca NE E-Waste Hauling Services near me
Bellevue NE E-Waste Hauling Services near me
Bennington NE E-Waste Hauling Services near me
Blair NE E-Waste Hauling Services near me
Boys Town NE E-Waste Hauling Services near me
Carson IA E-Waste Hauling Services near me
Carter Lake IA E-Waste Hauling Services near me
Ceresco NE E-Waste Hauling Services near me
Council Bluffs IA E-Waste Hauling Services near me
Dunlap IA E-Waste Hauling Services near me
Eagle NE E-Waste Hauling Services near me
Elkhorn NE E-Waste Hauling Services near me
Fort Calhoun NE E-Waste Hauling Services near me
Fremont NE E-Waste Hauling Services near me
Glenwood IA E-Waste Hauling Services near me
Greenwood NE E-Waste Hauling Services near me
Gretna NE E-Waste Hauling Services near me
LA Vista NE E-Waste Hauling Services near me
Lincoln NE E-Waste Hauling Services near me
Logan IA E-Waste Hauling Services near me
Louisville NE E-Waste Hauling Services near me
Malvern IA E-Waste Hauling Services near me
Mead NE E-Waste Hauling Services near me
Missouri Valley Ia E-Waste Hauling Services near me
Murray NE E-Waste Hauling Services near me
Oakland IA E-Waste Hauling Services near me
Omaha NE E-Waste Hauling Services near me
Pacific Junction IA E-Waste Hauling Services near me
Papillion NE E-Waste Hauling Services near me
Plattsmouth NE E-Waste Hauling Services near me
Ralston NE E-Waste Hauling Services near me
Springfield NE E-Waste Hauling Services near me
Underwood IA E-Waste Hauling Services near me
Valley NE E-Waste Hauling Services near me
Wahoo NE E-Waste Hauling Services near me
Waterloo NE E-Waste Hauling Services near me
Weeping Water NE E-Waste Hauling Services near me
Woodbine IA E-Waste Hauling Services near me
Yutan NE E-Waste Hauling Services near me
call us at (402) 575-9499 or