Pool Table Removal Servie near Omaha NE Council Bluffs IA
Amazon Junk Removal & Hauling Omaha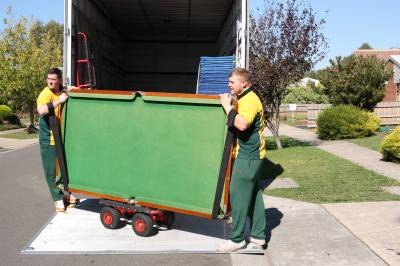 How to Get Rid of Your Pool Table? Call Amazon Junk Removal & Hauling Omaha in Omaha NE Council Bluffs IA
For the fastest guaranteed price estimate for your pool table removal, please call (402) 575-9499!
Have you tried moving your pool table recently? We're guessing it didn't get very far. Pool tables top the list of the most difficult items to remove because they are extremely heavy and bulky. When the time comes to get rid of that pool table you purchased way back when for your family game room, you know you have a big task ahead of you. Fortunately, our fully insured and trained team is ready to do the heavy lifting for you!
Our crew of Junk Removal Professionals can make your pool table removal project an easy, painless process. Don't risk injury to yourself or damage to your home. Let our team disassemble and remove the pool table safely and quickly, with no additional effort on your part. As an eco-friendly junk removal company, we can ensure that the table will be recycled or properly disposed of with our local Omaha NE Council Bluffs IA partners.
How Pool Table Removal Works:
When you work with us to remove your pool table, we have all of the tools and equipment to have your space cleared in less than a few hours.  Just book your appointment with our Junk Expert and they will handle all the details for you.
The day of the pick up, just have your phone handy and we will text you when we're on the way. We will get to work disassembling the pool table as necessary to safely remove it, while taking extra caution for the rest of your basement. We'll get out all the heavy stuff, and then sweep the area leaving it broom clean for whatever you plan to do next.
After the removal, we can take payment via cash, check, or credit card on the team's tablet and you're on with your day!
Don't wait another day to get rid of your old pool table. Just call (402) 575-9499 or Book Online, and our professional crew will schedule a time that works for you to haul it away.
Arlington NE Pool Table Removal Service near me
Ashland NE Pool Table Removal Service near me
Avoca IA Pool Table Removal Service near me
Avoca NE Pool Table Removal Service near me
Bellevue NE Pool Table Removal Service near me
Bennington NE Pool Table Removal Service near me
Blair NE Pool Table Removal Service near me
Boys Town NE Pool Table Removal Service near me
Carson IA Pool Table Removal Service near me
Carter Lake IA Pool Table Removal Service near me
Ceresco NE Pool Table Removal Service near me
Council Bluffs IA Pool Table Removal Service near me
Dunlap IA Pool Table Removal Service near me
Eagle NE Pool Table Removal Service near me
Elkhorn NE Pool Table Removal Service near me
Fort Calhoun NE Pool Table Removal Service near me
Fremont NE Pool Table Removal Service near me
Glenwood IA Pool Table Removal Service near me
Greenwood NE Pool Table Removal Service near me
Gretna NE Pool Table Removal Service near me
LA Vista NE Pool Table Removal Service near me
Lincoln NE Pool Table Removal Service near me
Logan IA Pool Table Removal Service near me
Louisville NE Pool Table Removal Service near me
Malvern IA Pool Table Removal Service near me
Missouri Valley Ia Pool Table Removal Service near me
Murray NE Pool Table Removal Service near me
Oakland IA Pool Table Removal Service near me
Omaha NE Pool Table Removal Service near me
Pacific Junction IA Pool Table Removal Service near me
Papillion NE Pool Table Removal Service near me
Plattsmouth NE Pool Table Removal Service near me
Ralston NE Pool Table Removal Service near me
Springfield NE Pool Table Removal Service near me
Underwood IA Pool Table Removal Service near me
Valley NE Pool Table Removal Service near me
Wahoo NE Pool Table Removal Service near me
Waterloo NE Pool Table Removal Service near me
Weeping Water NE Pool Table Removal Service near me
Woodbine IA Pool Table Removal Service near me
Yutan NE Pool Table Removal Service near me
call us at (402) 575-9499 or